We decided to lightly skim over Lewis and Clark this year since we're going to hit it again in 2 years, as we are changing curricula.


Lewis and Clark and Me: A Dog's Tale by Laurie Myers - We really liked this book. The dog's point of view was humorous and kept the girls' interest. All of the stories included are from Lewis' journal, including a beaver attack that almost kills Seaman.


Seaman's Journal: On the Trail With Lewis and Clark by Patti Reeder Eubank - This book was absolutely beautiful. If you are trying to decide between this one and the previous, pick this one. Although it is a picture book, it is packed full of interesting tidbits of the Corps of Discovery. There are plant and animal species beautifully illustrated with great detail and follows the general story of Lewis and Clark.
We tried to use lapbook components in our notebooks to try to fill any major gaps, but the above books gave our girls a nice grounding in this topic. Here are some blogs that have some really nice printables on Lewis and Clark. We didn't get to use the Raising Superheros printables, but we're saving them for the next time we go through Lewis and Clark.
The map is from
Interactive 3-D Maps
. The lapnote components are from the above Dynamic 2 Moms website.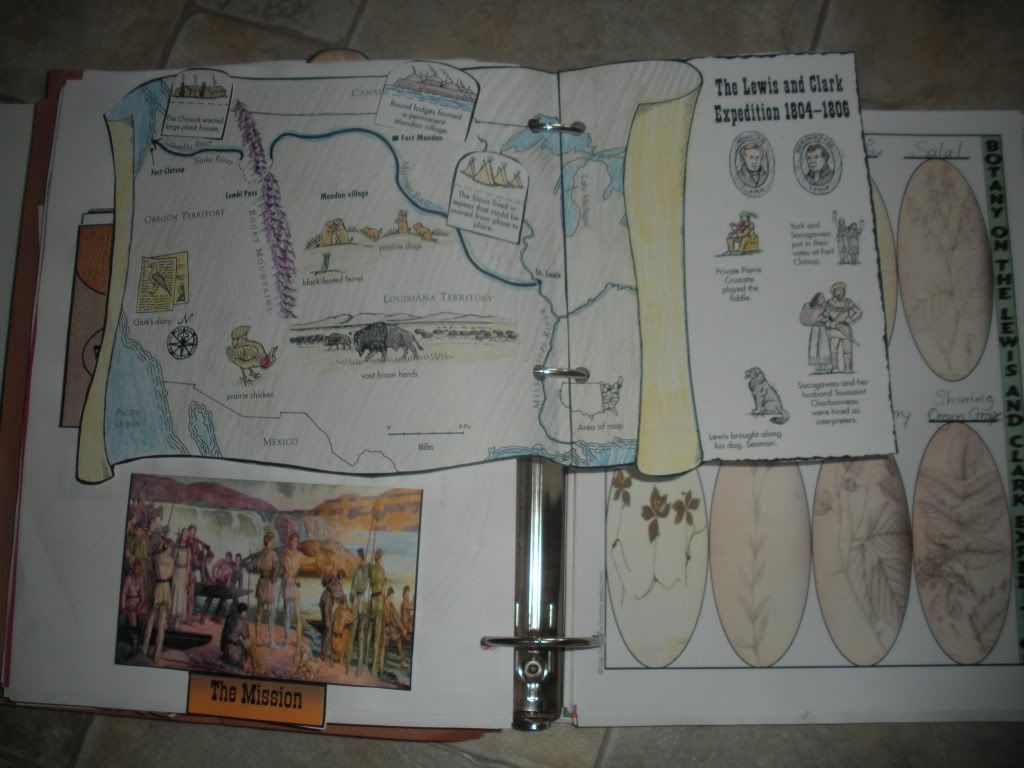 We also like to print out thumbnail pictures of the books we read and put them on the appropriate notebook pages. As the girls look through their notebooks, it jump-starts their memories of the books we have read and is a continual review of the things we have covered.
Here is a drawing by Coco (then 7) of Lewis and his dog, Seaman. Can you see Lewis' journal on the ground? ;) These drawings are almost all guided by
Draw Write Now: Book 5
.
Julie