This is discovery art at it's finest!
Preschool Art
by Maryann Kohl is fantastic for its open-ended art projects from clay and paper to construction and paints and more.
Once in a while we do a craft that has an end like making a paper plate hen or something, but these crafts are nearly always done by me and they are always forgotten about a few days later. I love to do these and the girls love to do them, but I can only handle so much of it. The schedule I made (Let's Explore the World) has a lot of these types of crafts, and I appreciate them being there if we choose to do it, but (gasp!) I never do them every week.
I much prefer the easy to implement and scads more relevant and freeing open-ended art projects. The art is in the discovery of new materials, new ways of doing things, and it doesn't matter one whit what the end product looks like. It's the child's and his or her personality has a chance to shine through!
This week we did crayon rubbing transfer projects. Easy as 1-2-3! I found relatively flat objects around the house (paper clips, safety pins, buttons, pieces of yarn, torn paper towel, coins, puzzle pieces, glitter), and I "hid" them under a sheet of paper while the girls weren't looking. I then had them come and rub the side of a crayon across the whole sheet of paper to help them discover what was hidden. We used different colors and they had a blast!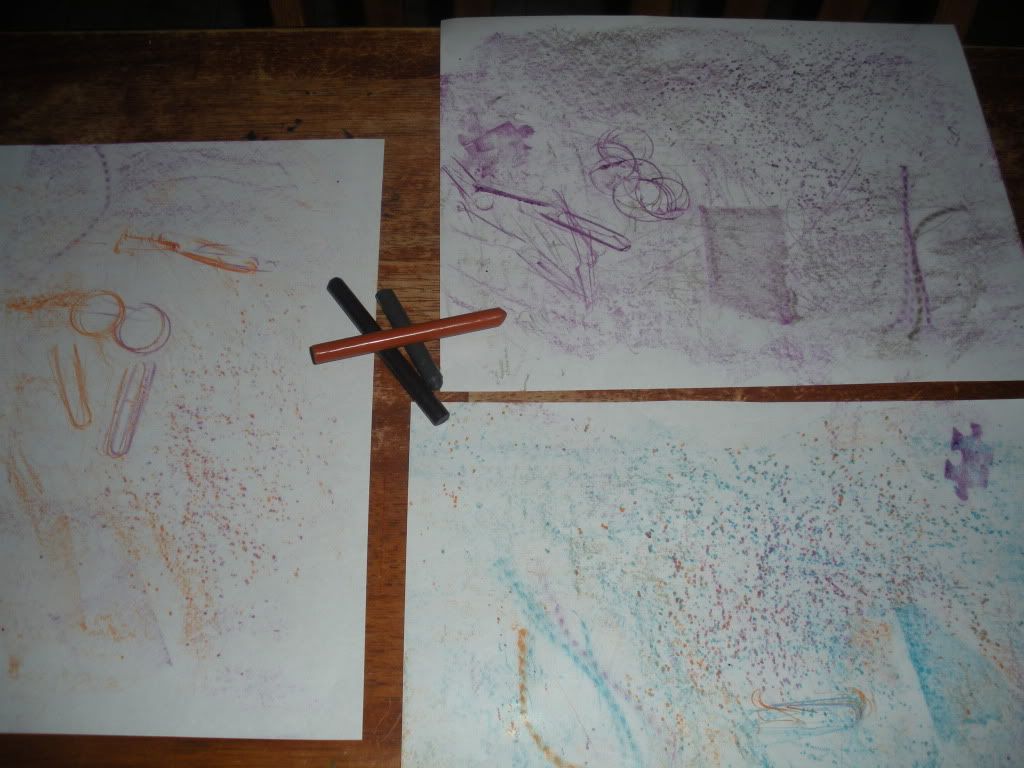 Julie