Sonlight® Week 23 and SOTW Chapter 27
What an interesting week! I may be partial to Ancient Rome, but the beginnings of it, no matter if it is a myth, were quite fascinating. The Etruscans were early Italians, and the book below,
Brave Cloelia
, gives a story of bravery during battles between the Etruscans and the Romans. The other book,
The Roman Twins
, chronicles the tale of Romulus and Remus, which a study of Ancient Rome is not complete without! The illustrations are whimsical and child-like. The author of this book also wrote
Croco-Nile
, a great book for the Ancient Egyptians.
This week we ventured out in a homemade notebooking page again, as I didn't have time or the gumption to print out some of the premade ones I have. We used the coloring page from
Story of the World Activity Guide
, the girls did a narration written on plain lined paper, and they drew pictures of what they learned during history. Check them out below!
Notebooking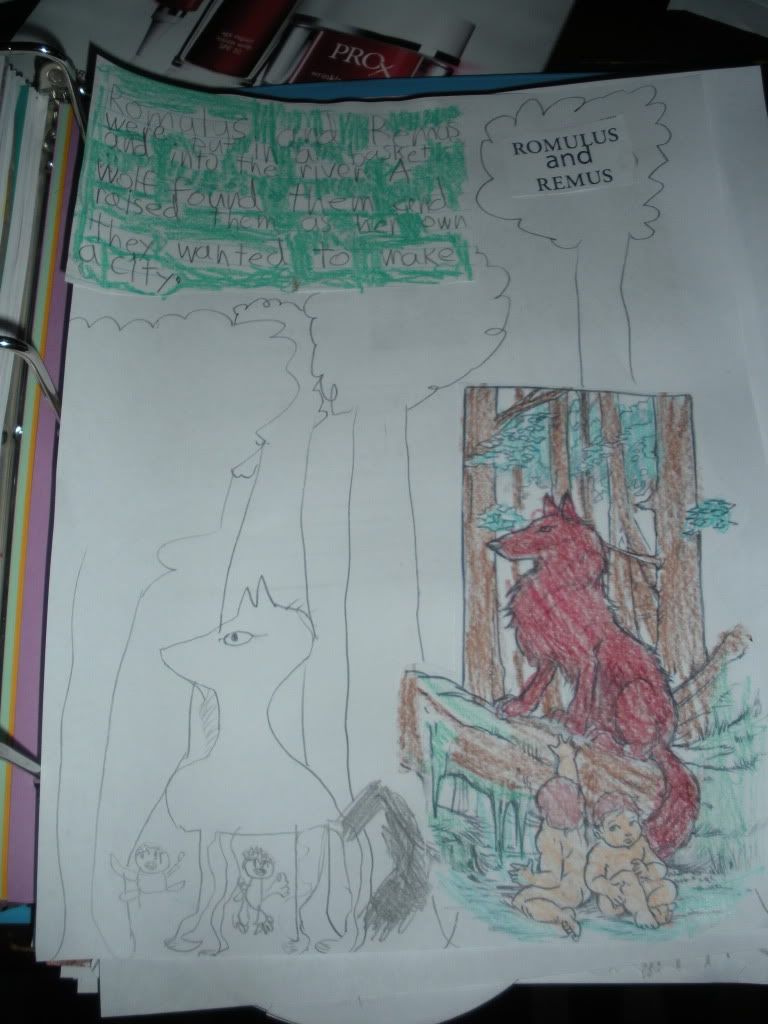 Romulus and Remus homemade notebook page; Dreamer (7)
Coco's (8) Romulus and Remus homemade notebooking page


Activities
Orange Honey Dessert
oranges (or clementines)
Greek thyme honey (or other honey of your choice)
OPTIONAL ground cinnamon
Peel the oranges, break into pieces (or slice), arrange on a serving dish, and drizzle with honey. Optionally, add a light sprinkle of ground cinnamon.
Extras! Extras!
Julie