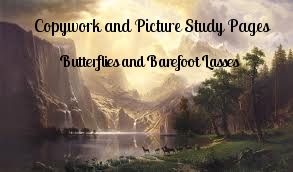 I wanted more cursive practice for my daughters, and what a lovely way to combine exploring artwork and beautiful cursive! The pages are not in cursive, upping the difficulty of translating from print to cursive. This way, even a young child can do these if you wish. I created printable pages that include 30 works of art with 5 to 10 sentences following each piece to help with picture study. These should last a whole year! The questions and comments after each painting pull out details, sometimes with vocabulary to challenge your child. Talk it through with them, defining the words, and encourage them to search the paintings for details I didn't notice!
I recommend printing them front and back on heavy paper (not card stock, but probably an inkjet quality paper), front and back, then taking it down to your local office supply store and have them either comb bind or spiral bind the whole thing together. Card stock can be used for the front and back for added durability, and a plain front is best, as your child can make the notebook their own by illustrating and labeling it.
I plan to make some more in the coming months, but these should last you a while. As always, I hope you enjoy these printables!
Copywork and Picture Study workbook
Julie
This post is linked! Check out these other mom blogs.