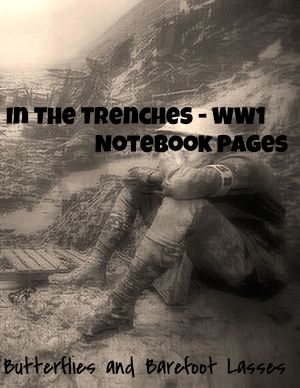 After researching for these pages, I realized how little I knew about World War 1 and the atrocities the men endured. Many of us just don't understand.
These are interactive notebook pages with 3D components (sort of like lapbook components, but for notebook pages). I created them for 4th through 6th, but please preview the websites and the pages before setting your children free with them. While the details are not too detailed in either, it mentions corpses and smells and other such things. If needed, just skip those pages (especially the poetry page) and read the website aloud to your child without them looking. I tried to steer clear of vivid images of human death.
Usually I say, "Have fun!" here, but not today. These pages are sobering and eye opening.
In the Trenches - WW1 notebook pages
This is the second release of World War 1 pages. The first set is
copywork of "In Flanders Fields."
Coming soon
are pages to include Propaganda Poster Discussion pages, "On the Homefront" interactive pages, and "Animals of World War 1" interactive pages.
Julie