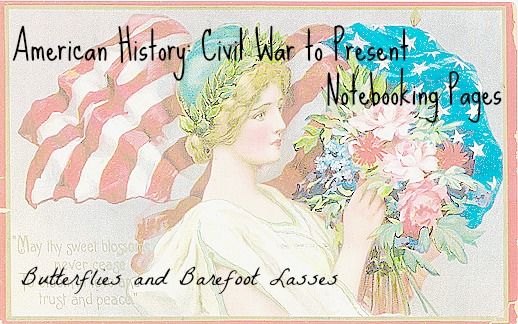 Just finished my notebook pages that correlate with Sonlight Core E®. I am obligated to mention these pages nor this author are affiliated with Sonlight®. These pages can easily be used with any American history studies, though.
This set bloated its way out to 90 pages! The girls and I certainly won't use them all, but I wanted to have them available just in case.
These are simple pages with colorful graphics (that could certainly be printed in black and white) with lines to summarize history readings, and some pages have space to draw if you wish. Sometimes we don't even use these drawing areas. At the end of the document is a page with lines only. Once in a while, the girls are required to write more than the lines allow on the first notebook page with the graphics
Hopefully these are useful to someone out there! I had to separate the file, as it was so huge.
American History Part 2 (Civil War to Present) notebook pages-A
American History Part 2 (Civil War to Present) notebook pages-B
Julie