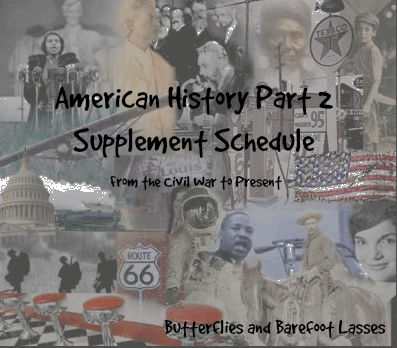 I made this schedule to supplement Sonlight Core E®. This schedule and this author are not affiliated with Sonlight® in any way.
As usual, there are tons of ideas here, and they will
work with any American history curriculum
. We certainly don't use all the ideas in this schedule, but pick and choose. Sometimes we're just not in the mood to do something, and we simply skip it!
I've scheduled a
wrap-up of the state study
started in last year's schedule. The states were scheduled as they entered the union. Since this schedule is from Civil War to present, any states which entered after 1850 are included in this schedule.
There is also a
president study
starting on week 21. I am using a book called
Smart About the Presidents
to help me out. We will simply read a short 2-page spread on each president, complete some lapbook components that I found for free on Homeschool Share, and I created some president flashcards to help us remember them all. All the links are included in the schedule.
Other than that, we've got plenty of
internet links
(which sometimes go dead),
activities
found on the internet, time period
recipes
,
activity books
, a few
extra books
(which we don't always get to), and lots of
notebooking
.
I hope you find it helpful in fleshing out your history books this year!
American History Part 2 supplement schedule
Julie