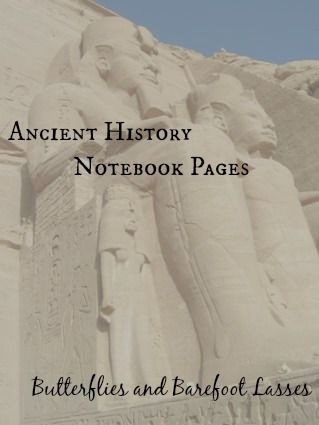 I decided to create some pages for my 2nd grade daughter. At first, you may think, "How do I use these with my young child?" I keep it simple and to the point. Each page has a sketch area and lines. There are two sets to choose from, 3-lined and single lined. I personally still use 3-lined with my 7-year-old.
After we read about the subject, I will ask her one thing she remembers about the reading. I transcribe exactly as she says it for her to copy her own sentence onto the page. That's it. Easy peasy! If she wants to say more and write more, that's great!
If she's easily completing this, I would move onto telling me 1 or 2 of the main ideas. Hammurabi? He was a king who made laws for his people to keep order, and they were carved into stone.
There are more pages here than you might care to complete. What I do is print weekly or every two weeks. Depending on what we've got going on, gauging my student's ability that week (which changes throughout the year), I only print what I think we'll get to. Sometimes I don't do any notebooking in a week.
I hope these will help you in your ancient history studies. We are doing Sonlight Core B® with our 2nd grader this year, and these follow that curriculum well, but they are versatile and can be used with any ancient history curriculum. They can even be used for older grades.
Ancient History notebook pages
single lined
3-lined
For those who want to use these with older kids, here is a Page 2 lined notebook page for more room to write.
Page 2 lined notebook page
Julie