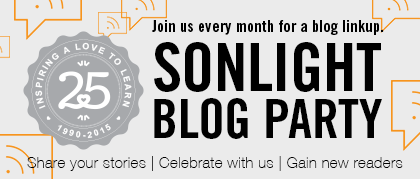 So who exactly is this homeschooling woman who does nothing but share freebies? You may know my name is Julie and I like making printables for my family and then sharing, but how did we start homeschooling? Why do we homeschool? Who are we?
Okay, so maybe these aren't burning questions in your mind. After all, when I look for free schooling materials, I'm usually in and out, thank you ma'am, goodbye. I figure that's what most of you do as well, but Sonlight, our curriculum of choice, is having a blog party, and I thought it might be fun to engage my lack of writing ability. I need to stretch myself.
First up, meet my family. Joey and I have been married for 16 years, and we have three beautiful girls (astonishingly beautiful if I may say so), ages 12, 10, and 7. We weren't supposed to be able to have children. We were both tidily checked out by physicians, who told us our chances of conceiving naturally were "approaching zero quickly." Lo and behold, enter pregnancy a mere two months after we were told that. Hello Coconut! Quickly after her birth, we had Dreamer and last, but not least, Beeps.
We've been homeschooling for 8 years now, if you count preschool. In fact, I'm a little frazzled right now with the thought of a 7th grader next year. We just take it one year at a time.
I'm getting ahead of myself, though. Next month, check back to see how we came to homeschooling and why we are continuing for now. So there you have it in a nutshell. My family. :)
Julie
Click below for more posts on Sonlight homeschooling families!