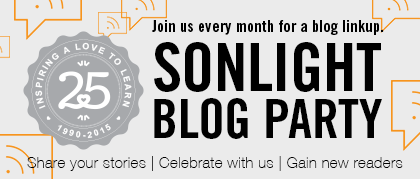 If you would have asked me fifteen years ago about homeschooling, I would have given you a blank stare and asked, "What's that?" Homeschooling was not even on my radar. Granted, I was really young and not thinking of even having kids yet.
When Coconut was 3, I began traveling around our city, checking out various preschools, gathering information responsibly. All the while, in the back of my mind I wondered about that crazy homeschooling thing. I had met several (actually many) homeschooling families in my community, and didn't even know people actually did such a thing. I didn't look down upon those that chose to homeschool, but looked on with mild curiosity.
I informed Joey of my preschool worthiness findings, and he would nod his head. We didn't need to think about it quite yet. Out of the blue one day, he asked me if I would considering homeschooling. What?! Um, no. Too weird, too scary, too...unknown. I started thinking about this option more. Wait, now its an option?! After all, wasn't I thinking about it before Joey even mentioned it to me? Maybe this is what we're supposed to do?
After I researched homeschooling for hours upon hours upon hours, I told Joey that why don't we just try preschool and see how it goes? Eight years later, we're still at it.
We still take it year by year and are totally open to public school if that is what the girls need. We're not anti-school at all, and will continue to take it year by year, evaluating each child. Maybe one day we'll school only one at home while the other two enter school, maybe not. We'll see. We both agree we would like them to each try at least one year in public school, 8th or 9th grade, and we hope to give them a say in their education as they approach high school.
I am a book fiend, and I never learned so much history as though historical fiction, so Sonlight had me hooked. I tried a different curriculum one year with hands-on activities, but I found myself substituting the other curriculum's books with Sonlight books and figured I should just go back to Sonlight. We've been sonlighting ever since.
Homeschooling has really just become a way of life for us. It's what we do. Right now, I can't see it another way, but that may change.
Julie
Click below to read other Sonlight family's blogs!